Back in January, my wife and I placed an order for a Subaru XV Crosstrek Premium with the CVT and a couple of the smaller options. We timed the order knowing it would take probably 4 months for delivery, anticipating that my car would be paid off before we got the car, giving us only one car payment and possibly a little time where we don't have any payments. We took delivery of our Crosstrek today and timed it so our first payment is not due until June. My car has just under 50,000mi on it, so we should be able to pay off the Subaru before I need another. And with it being a Honda, it sure would be nice to get even longer out of it so we can enjoy a couple years at least without any payments.
There's our Subie! Aside from the obvious that this car has all wheel drive and good clearance, I think this is pretty ideal for our lifestyle because it marries that off-road capability with respectable highway fuel economy around 33mpg. It's a car we're not afraid to drive a good distance with due to the cost of fuel. And it can get us to rough trailheads and river access points.
In that vein, we're moving our Thule rack from our old Jeep Liberty to the Subie. The crossbars will be a few inches longer than the official Thule fit for the car, but will work. The fairing we have is also a few inches bigger but I'll have to try it out to see what the fit will be before deciding whether we need a new one or not.
With this car, our thoughts are to keep the roof rack for canoes only, much the same way as we did with the Jeep. We never got around to buying a hitch rack for bikes for the Jeep, but that's our thought with the Crosstrek. The Crosstrek has a square cutout in the bumper for a hidden hitch, but it appears that only one company makes a hitch to utilize it right now. Not even the factory hitch uses that cutout. This Torklift hitch looks to.
That's a little more involved installation than the Jeep's hitch. And while there's no major modifications or drilling that need to be done to install it, dropping the exhaust out of the way requires a bit more space than I have available. We'll have to find someone who can install it for us. We know some mechanics who might be able to do it for a reasonable fee.
For the hitch, I'd like to get a Kuat NV rack. A quality rack will last a long time, I like the tray style, and having an integrated workstand helps a lot with campground repairs/adjustments and last minute trailhead pre-ride checks.
I'm also considering a set of rally style mudflaps for the car from Rally Armor. They're not available yet, but the Crosstrek is on their list of upcoming vehicle fits. I am not a fan of their bright colors, but these provide much better coverage than the Subaru accessory mudflaps.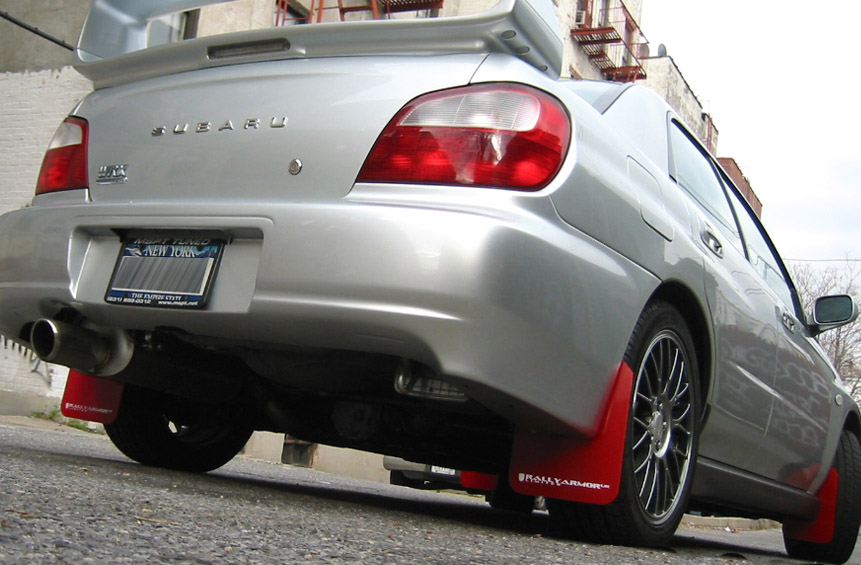 I got to drive the car a little bit this evening (it's my wife's car, so I have to sneak it away from her most of the time) and I like it. It actually feels lower than it really is and it drives like a much lower car. It corners well for being so tall and having as much ground clearance as it does. I've seen a lot of folks criticize the fact that it only has a 4 cylinder engine, but honestly I think the engine is just fine. Maybe if they put something bigger in it, it'd be quicker for folks who want a sportier car, but they have other Impreza trims for that. Remember, this car is really just a lifted Impreza. The CVT likes to rev low, but it will respond when told. You do have to be emphatic with it when in auto mode. I will play with the paddle shifters when I can get it onto a less busy street and can use them without having to slow for stop lights or traffic. I have never used paddle shifters before, but I do like the manual in my Honda. They probably won't take much getting used to.
In short, I'd like to set the car up so we can load the bikes, the canoe, the dogs, and our gear and go camping for the weekend. This car will let us do that. We're not huge people, and we pack light, so the smaller car will work great for us. We also don't have kids. If we had one or more kids plus the dogs, we'd probably need something a bit bigger like an Outback or Forester. But for us, I think this vehicle will suit us well.